Evaluating the clinical and cost-effectiveness of CA-ARTI diagnostics through PRUDENCE trial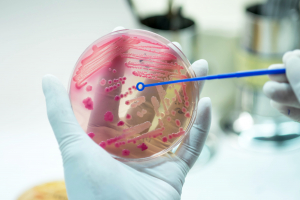 The invention of antimicrobials was a major breakthrough in medical science that saved millions of lives. Antimicrobials are used to treat illness caused by bacteria. Development of these medicines meant that illnesses, like pneumonia, which were once often fatal, could now usually be successfully treated. But effectiveness of antimicrobials is now decreasing because they are being overused.
Microorganisms that are being exposed to antimicrobials change genetically over time, making it harder for the antimicrobials to work against them. As a result, "superbugs" are developing. We have no effective treatment for some of these "superbugs". The development of resistance to antimicrobials is a major public health concern worldwide. Unhelpful, clinically unwarranted variation in care is a major contributor. Point-of-care testing that is proven to be cost-effective in clinical trials could help improve the quality of care and thus patient outcomes. This is especially true for community-acquired acute respiratory tract infections (CA-ARTI), the most common acute reasons for consulting health services in community care setting and for antimicrobial use.
The aim of Platform Randomised controlled trial of point of care Diagnostics for Enhancing the quality of aNtibiotic prescribing for Community acquired acute respiratory tract infection (CA-ARTI) in ambulatory care in Europe (PRUDENCE) is to determine if having a CA-ARTI diagnostic (CA-ARTI-Dx) test result available when a clinician is considering, or plans to prescribe an antimicrobial, leads to more appropriate prescribing decisions, without causing harm to patients. PRUDENCE is a multi-country, prospective, individually randomised, platform clinical trial in community care with a nested process evaluation. The trial is a diagnostic strategy intervention study to evaluate the use of clinical algorithms that include a CA-ARTI-Dx, compared to usual clinical care without CA-ARTI-Dx.
The PRUDENCE trial is managed by the University of Oxford, University Medical Centre Utrecht, Abbott and BD, and it will involve up to 10 primary care networks in Europe. Designed as a flexible platform trial, it has the capability of including additional interventions without having to start a new trial each time a new intervention emerges. It will also involve a mixed-methods process evaluation to capture data to understand how point-of-care tests are used and viewed by clinicians and patients to inform recommendations on implementation.
Read the main objectives of PRUDENCE here.