Ecraid press release on European response to monkeypox virus outbreak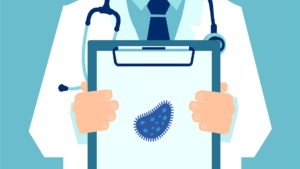 Utrecht, 7 July 2022 – Ecraid is assessing its readiness to respond in the event the monkeypox outbreak spreads further in Europe. These preparations are proportionate to the current relatively low risk of this infection for European citizens. Ecraid is currently operating in outbreak response mode 2 (mobilisation) for adults, and in outbreak response mode 1 (preparedness) for children, the second and first of three response modes.
Outbreak
Early May 2022 a multi-country outbreak of monkeypox virus (MPXV) started affecting the United Kingdom (UK), the EU/EEA, Asia, the Americas, and Australia. The virus spreading outside of the known enzootic countries in the African region has been designated clade 3 MPXV. Cases that are thought to be linked to this outbreak have been reported from 31 countries and areas throughout the European region, and other countries. Most recognized infections are in men with high-risk exposure for transmission (men who have sex with men), and disease transmission outside this population is still rare, but there is some concern that expansion of the risk group is possible if the outbreak continues to evolve. The clinical manifestations of clade 3 MPXV infections are usually mild, and most people in the current outbreak have recovered within weeks. More severe disease has been reported in studies from African countries with enzootic presence of monkeypox, with outbreaks with clade 3 MPXV with a case-fatality rate up to 3% in Nigeria. The highest case fatality rates have been reported for children and young adults, as well as immunocompromised individuals.
Treatment for monkeypox is mostly symptomatic. Tecovirimat was approved by the European Medicines Agency (EMA) for treatment of monkeypox throughout the EU on 6 January 2022. Tecovirimat has been authorised under 'exceptional circumstances', as it has not been possible to obtain complete information about tecovirimat efficacy and safety in human monkeypox due to the rarity of the disease. Persons with severe disease, immunocompromised patients, children younger than 8 years, and pregnant individuals could be considered for antiviral treatment.
Although the exact extent of the outbreak remains to be established, these events have triggered an assessment of the level of preparedness of clinical research networks in Europe for possible deployment in case of further spread. The EU has invested in the development of these European clinical networks over many years to ensure preparedness for delivering clinical research in response to new infectious disease outbreaks. These networks include Ecraid: The European Clinical Research Alliance for Infectious Diseases (With the support of funding provided by the EU, Europe is now much better prepared to speed up the processes of clinical research to the extent that findings are generated in real time to inform practice when it is most useful, in the midst of an outbreak, rather than once the threat has passed.
How Ecraid is responding
Information on Ecraid's response modes and implications can be found here. Activities are planned and conducted in close collaboration with our partner networks (EU-RESPONSE and VACCELERATE) and the European Union and in alignment with those of WHO, ECDC and EMA. The preparations made by Ecraid as part of its mode 1 and 2 responses are briefly summarised below.
Ecraid participates in the MOSAIC study (led by University of Oxford as the sponsor and ANRS/Inserm representant of the sponsor in Europe). This is an observational study of the natural history of monkeypox disease in children and adults. With its collaborative network, Ecraid will identify study sites for participation in MOSAIC in those countries not yet participating. Together with its partners ANRS/Inserm, University of Oxford and UMC Utrecht, the alliance also participates in the preparation of a randomized controlled trial evaluating the effectiveness of tecovirimat. Moreover, Ecraid offers countries access to serology and sequencing capacity in its network (e.g., Erasmus MC).
Through its partners with expertise in pediatric infections (PENTA-ID, UMC Utrecht and Erasmus MC), Ecraid will develop a scientific research agenda in the event that monkeypox infections emerge in children. The first initiatives for preparation have focused on the use of Imvanex in adults and children as Post-Exposure Prophylaxis or Pre-Exposure Prophylaxis. Imvanex is not licensed for children under 18 years but is used off-label for exposed children. There is no standardized protocol for follow-up of these children and the possibilities of a cohort study looking at immunogenicity, break-through infections and adverse events is being explored with several European countries. Study developments will be discussed with EMA, and execution will be aligned with VACCELERATE.
The standing Ecraid Outbreak Mode Committee (Prof. Marion Koopmans of the Erasmus Medical Center in Rotterdam, Prof. Peter Horby of the University of Oxford, Prof. Herman Goossens of the University of Antwerp, Prof. Yazdan Yazdanpanah and Prof. Marc Bonten, University Medical Center) continue to follow the events closely to ensure Ecraid's clinical research response remains aligned with the risk to health and security of European citizens.
Quotes
Prof. Marc Bonten (UMC Utrecht and CEO of Ecraid): "Ecraid has been established to enhance our capacity in Europe to mount a rapid clinical research response to any new infectious disease threat. Monkeypox may become such a threat, and that's why we have started preparations for clinical studies now."
Prof. Yazdan Yazdanpannah (ANRS/Inserm): "Threats related to new emerging pathogens or re-emerging infectious diseases appear regularly and the frequency of their occurrence is increasing. This is again illustrated by the unprecedented and unexpected outbreak of human monkeypox cases across Europe, the Americas, and Australia. A United Europe of Research is key to respond to epidemics/pandemics. Research infrastructures such as Ecraid and its partner networks EU-RESPONSE and VACCELERATE are very important tools of response."
Prof. Peter Horby (Oxford University): "The unanticipated emergence of monkeypox outside of Africa is a perfect case-study of how threats anywhere can become threats everywhere and exemplifies the need to work as a global community to identify and counter all infectious disease problems, wherever they occur and whomever they affect."
Prof. Marion Koopmans (Erasmus MC, Rotterdam): "While we do not foresee a surge of monkeypox cases in the near future, preparedness does require scenario thinking and preparing for those scenarios. In Ecraid, we do that for possible trajectories that may evolve if the current public health response does not lead to containment of the outbreak."
Prof. Herman Goossens (Antwerp University): "The European clinical trial networks, expanded during the COVID-19 pandemic thanks to significant EU funding, are providing the sustainable infrastructures for the response to the monkeypox threat."
About Ecraid
The European Clinical Research Alliance for Infectious Diseases (Ecraid) is a not-for profit foundation that advances clinical research in the field of infectious diseases by establishing a long-term, financially self-sustainable, clinical research network in Europe. Headquartered in Utrecht, the Netherlands, Ecraid is the first network of its kind in Europe to offer a single point of access to a pan-European clinical research network for infectious diseases and spans 1,100 clinical sites and 900 laboratories across 42 countries. For more information, please visit www.ecraid.eu.